comprehensive evaluation • compassionate treatment • coordinated care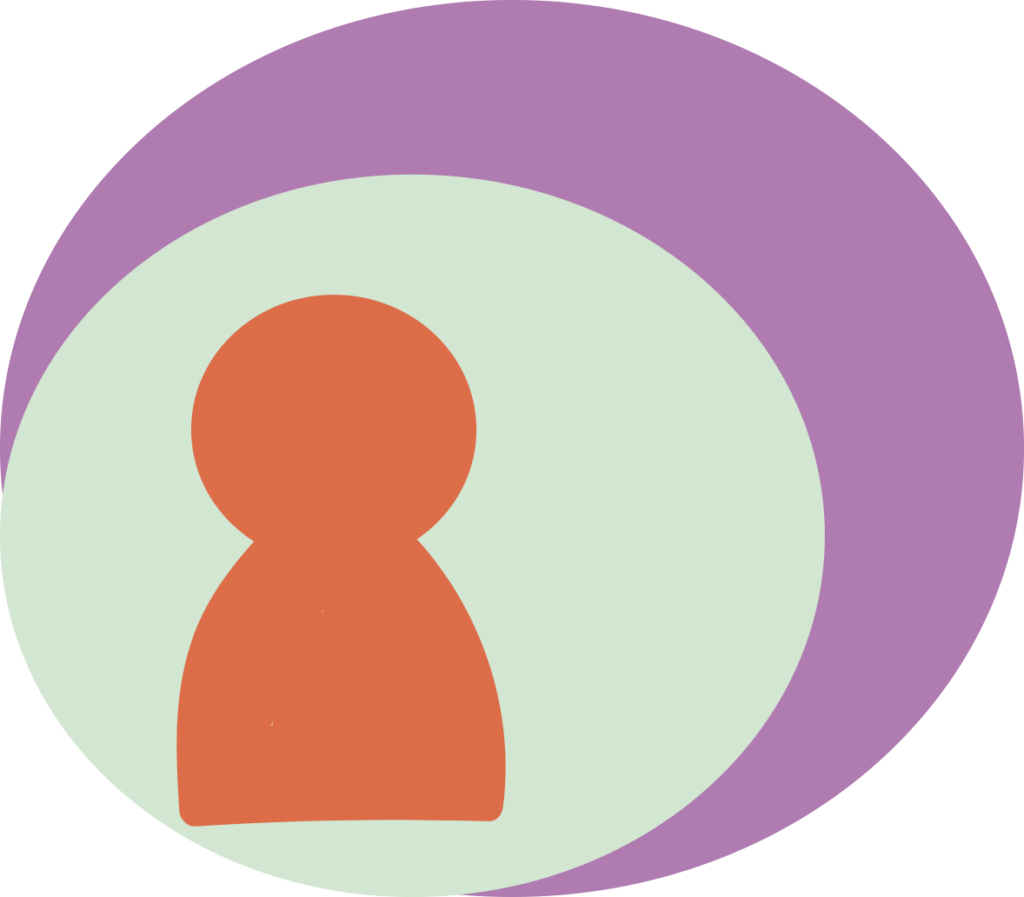 We provide comprehensive support to individuals, on a personal level, and within the context of their relationships, family systems, and the social structures that shape them.
We understand that personal well-being is deeply intertwined with the broader context of one's life, including institutions such as our social bonds, employment, or school.
By addressing various aspects of a person's life, we strive to create a wraparound approach that nurtures and empowers individuals within their unique ecosystems. Our range of services encompasses psychotherapy, evaluation, rehabilitative and support services, ABA/behavior therapy, mediation, education-related support, and groups.
Our team of compassionate experts is committed to guiding you through your journey of growth and strength, helping you navigate the interplay between self, relationships, and the larger systems that shape your experiences
Each each individual operates within a complex system of relationships and environments, and each person has a unique inner world that is influenced by, and influences, these connections. These relationships, whether in personal, work, or school contexts, play a pivotal role in shaping our thoughts, emotions, and behaviours. It's through these interactions that we often encounter challenges that can shape and change us.
Our team is here to provide a supportive and empowering space where you can explore and navigate the dynamics of a complex inner and outer worlds. Through our range of services, we can assist you in understanding your experiences and reactions, fostering healthier relationships, managing stressors at work or school, and overall, enhancing your mental and emotional wellbeing. Our therapeutic approach is respectful of the individual's unique experiences and contexts, with the aim to foster resilience, facilitate personal growth, and promote better coping strategies for life's multifaceted challenges.
If you're struggling with ADHD, focus and attention difficulties, depression, anxiety, trauma, C-PTSD, autism, phobias, learning disabilities, socioemotional challenges, or behavioral difficulties, we can help.
If you're in the midst of significant life transitions, distress related to gender expansivity, dealing with grief, or simply need extra support in navigating life's complexities, we can help you process these experiences and find your path towards health and growth. Both in-person and telehealth services are available, allowing you to choose what works best for your comfort and convenience. Together, we can work on improving your wellbeing, bolstering your strengths, and helping you develop new skills to meet life's challenges head-on
We offer a range of services aimed at enhancing an individual's psychological, social, and emotional well-being within the broader context of their relationships and various systems they navigate.
Whether it's improving relationships with a co-parent, sibling, child, or addressing challenges in the workplace or professional life, we are dedicated to working closely with our clients to identify problem areas and collaboratively resolve them.
Our goal is to support individuals in developing healthier dynamics, effective communication skills, and constructive coping strategies, ultimately fostering positive changes and promoting overall well-being within the complex systems they navigate.
Some services we offer that address individual needs within their relationships or environments include psychotherapy, mediation, and groupwork.
We provide an integrative approach to mental health across the lifespan, from experienced therapists.
 Individual counseling can be highly beneficial for individuals facing various challenges in their lives. If you are experiencing symptoms of depression, anxiety, traumatic experiences, difficulties with attention or concentration, grief, vocational issues, or difficulties in your relationships, seeking therapy can provide valuable support. Our aim is to collaborate with you to create a customized treatment plan that aligns with your goals for therapy. Through this process, we will work together to address your concerns and facilitate personal growth
We specialize in providing therapy for children and adolescents who are grappling with emotional and behavioral difficulties. Whether they are experiencing symptoms of anxiety, depression, attentional deficits, trauma, or behavioral issues impacting their school, home, or community life, we are here to help. We believe in a comprehensive approach that involves the active involvement of parents or guardians. Our goal is to work with the child or adolescent as well as the significant adults in their life to create supportive systems that promote their well-being and development
Whether you are seeking assistance in improving communication and resolving conflicts within your family, navigating the complexities of co-parenting, strengthening the bond with your child, or addressing and resolving concerns in partnerships, our therapy sessions are tailored to meet your unique needs
We offer a range of evaluation services, including psychological, behavioral, and educational assessments. These evaluations can be valuable for clinicians, clients, and other healthcare professionals involved in the your care
Rehabilitative & Support  Services
Services to support communication, behavioural, relational, and academic functioning
Psychoeducation & Groupwork
We offer a range of group programs designed to facilitate individual skill-building in an environment of support and belonging, that will translate to broader life contexts.
Besides in-house groupwork, we facilitate psychoeducation in presentation or workshop modality on a range of topics, delivered by our psychologists, counselors, behaviour analysts, and mediator.
Our clinicians will be happy to discuss your concerns, answer any questions you may have, and provide you with information needed to get started